Ministry Resource pricing for Faith Based Ministries:
---
Looking for a 'best of class" resource to educate, motivate and inspire your board, your champions and your major donors toward furthering Kingdom Generosity and achieving peak efficiency stewarding God's blessings in their family's lives?
Look no further -
Click here to download a PDF copy of our "Ministry FAQ" guide
or
visit the Ministry FAQ page
and
join with other faith based ministries in helping raise awareness among like minded donors and families of faith:
---
The Hope Center (Plano, TX)
"It excites me to think of individuals who take hold of this information and are transformed in their thinking about wealth management and charitable giving. They can truly impact an entire family, future generations, the world, and God's Kingdom. We gave Integrated Generosity as a gift to our 40+ ministry heads to strengthen their development and relationship building efforts, and to our own board members, staff and supporters as an educational resource. Integrated Generosity supplies simple steps to experience the joy of giving and stewarding your God-given resources that have the ability to impact all nations and types of Kingdom focused ministry." P. Stan Keith, President and CEO, The Hope Center, Plano, TX
Children's Hunger Fund
Mark Trewitt is a good friend of Children's Hunger Fund and is a supporter in the launch of our new distribution center in Dallas. To help our supporters grow in understanding biblical generosity, at our President's Invitational evert this past April, Mark's book, "Integrated Generosity for Faith Based Families" was given to all of our attendees. The book was well received, and we look forward to seeing how God will use the strategies presented to bless our supporters and their families." Dave Phillips, President & Founder, Children's Hunger Fund
---
Sky Ranch (Dallas, TX):
"Thanks for capturing the heart of what God's Word says about generosity, and infusing that wisdom into practical steps anyone can take to exponentially increase the impact of their Kingdom giving. Integrated Generosity is packed with the type of insights and ideas that can unleash Kingdom giving in ways many never thought possible. It's an essential read for any Kingdom giver, and an easy to understand resource we plan to share with our partners." Linda Paulk, CEO, Sky Ranch
---
The Master's Program (Southern CA/National):
"Integrated Generosity joins the power of biblical truth and stewardship with the practicalities of modern wealth management and Kingdom-oriented impact giving and philanthropy. In this book – and, its suggestions – you will certainly be challenged with fresh thinking and workable strategies that are both innovative and tested." Bob Shank, Founder/CEO, The Master's Program, Newport Beach, CA
---
National Christian Foundation California:
"A rare combination - spiritually refreshing and appropriately detailed. Additionally there are a variety of outstanding resource links sprinkled throughout. While it's a great read for anyone, to me it felt like a must-read for those who have been blessed with much, but may not feel 100% content or settled with the arrangement of their estate, feels called to be more intense & overt about their stewardship of wealth, and needs some solid ideas to chew on. Great read!" Joe Eelkema, National Christian Foundation California
Be sure to ask about resources to drive donor engagement and response!
Cover Letters from CEO / Development Director

Donor Centric "Core Diagnoistic Self Assessment" questionnaires

Customized response mechanisms directed back to your development office

---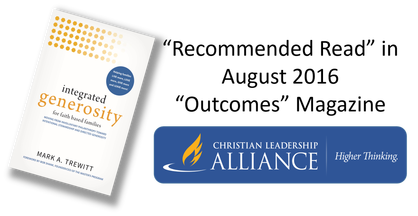 50-100 copies: $20/copy

100-249: $17.50/copy

250-499: $15/copy

500-999: $12.50/copy

1001+: $10/copy
Above prices do not include shipping and handling (~$30 per box of 25 books).
Please use the "Contact Us" page, email books@integratedgenerosity.com, or call 972-312-1337 to place bulk book orders.
---
---